Baling Wire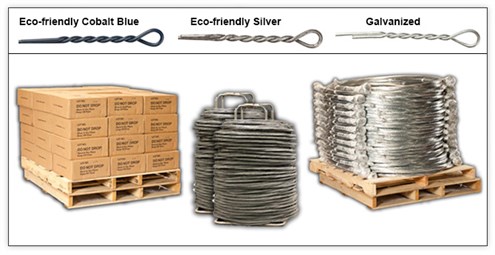 We help you find the correct baling wire or bale ties
BE Equipment offers a large array of baling wire and bale ties; but more importantly we will help you determine the correct type of baling tie/baling wire for your equipment and application.  Below is a list of the basic types of wire that we offer.  Do not hesitate to contact us if you need help selecting the correct wire or cardboard baler wire.
Please contact wire@beequipment.com or (215) 536-0700 Ext: 5600 for your next baling wire order.
All new customers will receive a 5% discount on their first order!
Single Loop Bale Ties
Highest quality wire meeting all manufacturer strength specifications
Ideal for companies that hand tie their bales, including recyclers, retailers, packagers and municipalities
Pre-cut in lengths of 6 to 24 feet with one side pre-looped and twisted
Bundles available in 125 or 250 pieces per bundle
Painted bale ties, galvanized bale ties, black bale ties
Double Loop (Square Lock) Bale Ties
For applications requiring high strength, heavy gauge bale ties
Easy to feed and snap together
Available in 9 to 14 gauge sizes
Manufactured to exact size per inch
Auto Tie Coiled Box Baling Wire
Used primarily for Automatic Single Ram balers, to produce heavier, denser bales
Black annealed wire is manufactured specifically for tensile strength and superior elongation
The oiled surface prevents rust and ensures smooth trouble free feeding through your baler
Available in 9 to 12 gauge sizes and in 50 lb and 100 lb boxes
Auto Tie Stem/Carrier Wire – Black Annealed Baling Wire
This black annealed wire is the same as box wire but is shipped coiled continuously on 1200-1800 lb carriers
Used for higher production automatic single ram auto-tie balers
Galvanized Hi-Tensile Baling Wire
For two-ram balers with strapper style tiers
Engineered for baling applications requiring wire with superior strength and elongation
Manufactured from special high tensile wire stock
Large inventories of all sizes and coated with a smooth, galvanized finish
Shipped coiled continuously on carriers (stems) weighing 1200-1800 lbs